The New Hampshire Farm Museum provides hands-on, farm-based experiences for students and youth groups exploring New Hampshire's history and agricultural heritage. Students can experience a working farm, tour an 18th-century farmhouse, make butter, feed chickens, and explore our 104-foot barn of artifacts in a variety of programs. We are also happy to work with you! Programs can be tailored to match specific learning goals and adapted to fit your curriculum and student interests.
Schools, homeschoolers, Scouts, and camp groups are all welcome at the New Hampshire Farm Museum. With a minimum enrollment of just 20 students, we accept groups both big and small. Last spring, we successfully hosted a 350-student school group!
DOWNLOAD OUR SCHOOL PROGRAM RESERVATION FORM »
---
Connecting with nature and learning the skills & knowledge of our rural past
Planning Your Visit
The New Hampshire Farm Museum offers school and youth programs between May and mid-November. Visits can be scheduled for any weekday between 9:00 am and 2:30 pm. To learn more about youth programming or to schedule your visit, call (603) 652-7840 or email us at nhfarmmuseum.info@gmail.com.
PROGRAM COST & SIZE
Program cost is $12 per student including materials. We need a minimum of twenty children in order to run a program. We recommend that you have one adult chaperone (teacher, parent, group leader) per ten students. One on one aides and bus drivers are always free!
PICNIC LUNCH
In good weather, students can pack a lunch to eat in our picnic area. We can also show students historic games like hoop rolling and the game of graces for all to play during lunch!
VISITING THE MUSEUM STORE
Students are welcome to shop in the Farm Museum Country Store during their lunch break! The store contains many fun, inexpensive items including educational toys, juice and soda, penny candy, farm-grown produce, and eggs. We ask that you let us know before hand if you'd like this option for your students so we can be sure to have the store staffed for your visit!
FACILITIES
We have an outdoor, handicapped accessible port-a-potty restroom available on the grounds.
---
Program Descriptions & Details
All programs can be tailored to match specific learning goals and adapted to fit your curriculum and student interests.
The Ox-Cart Man: Farms & Families at Work
AGE GROUP – Program recommended for grades K–4 • DATES – Offered May through early November
PROGRAM SIZE – 20 student minimum • LENGTH – Approx. 3 hours (plus time for lunch)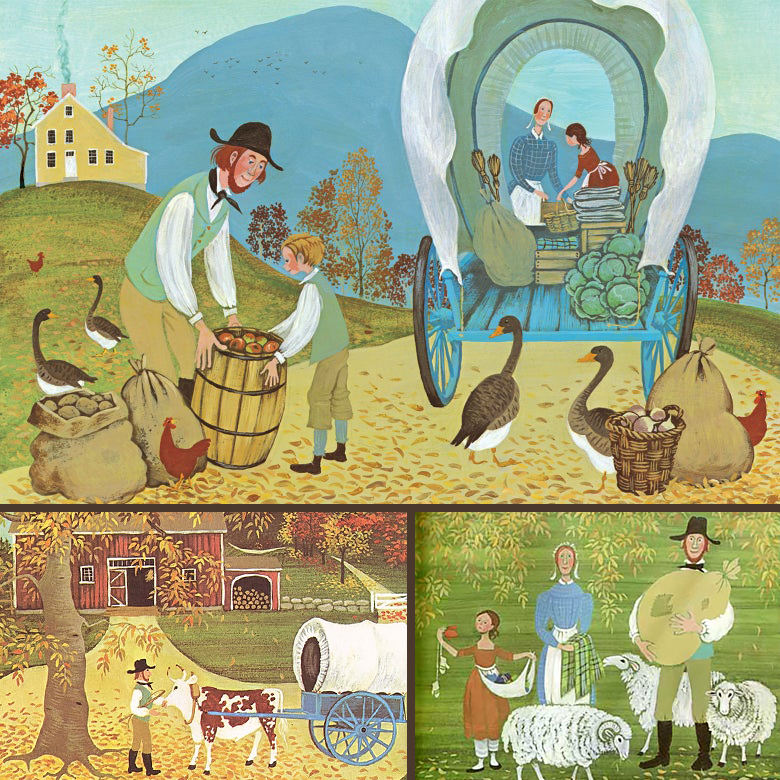 In this hands-on program based on Donald Hall's book, The Ox-Cart Man, children explore the way rural New England families lived and worked in the past. As the students tour the 18th-century farmhouse, they learn about the roles of each member of the household and how each was essential to make the family's living. As they gather farm products to bring to market, children learn about the artifacts and objects of daily life in Colonial times. On their hunt through the barn, the children search for many of the farm objects depicted in the story while learning about barter and trade. Students will make butter, meet our sheep, chickens, and other farm animals, work with wool, learn about planting or harvesting (depending on the season!), and help pack the ox-cart for the trip to the Portsmouth market.
Did you know? New Hampshire poet Donald Hall was a great friend and supporter of the New Hampshire Farm Museum!
Seasons on the Farm Program
AGE GROUP – Suitable for a wide variety of ages • DATES – Offered May through November
PROGRAM SIZE – 20 student minimum • LENGTH – Approx. 3 hours (plus time for lunch)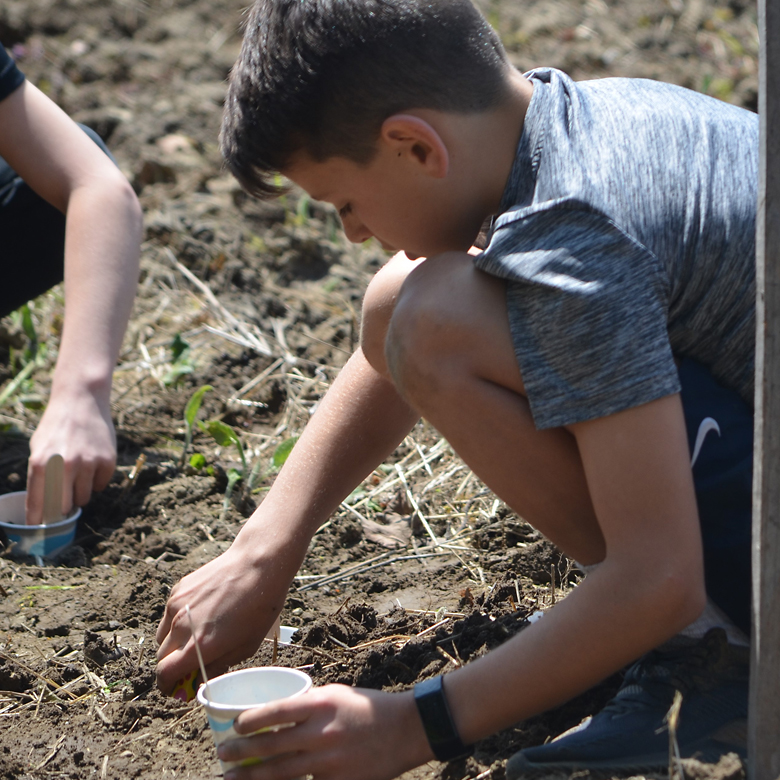 Recommended for camp, scouting, and homeschool groups, this program changes with every season, allowing kids to learn about and experience the farm at different stages of the year. This program is very hands-on and mostly outdoors as the children participate in seasonal activities at the farm.
Every season will include visits with the farm animals and a barn hunt. Join us in springtime to make butter, work with wool, plant in the gardens, and visit the farm animals. In summer, we make ice cream, help with planting and harvesting, and take the trail to the old family cemetery. In the fall, we help with the harvest, press apples to make cider, shell and grind the corn of the season.
Some groups do this program more than once in the year, allowing the kids to experience the full cycle of the year from planting to harvest.
Travel back in time and be a farmer! (for preschoolers)
AGE GROUP – Program recommended for children ages 3–5 years • DATES – Offered May through November
PROGRAM SIZE – 20 student minimum • LENGTH – Approx. 3 hours (plus time for lunch)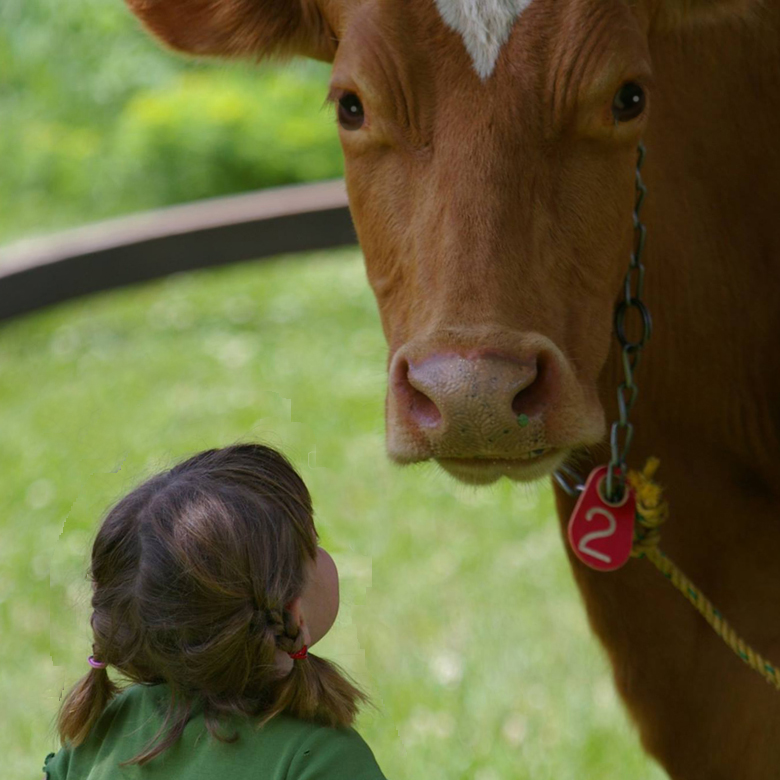 Come meet the Jones family and learn what it was like 200 years ago!  Every member of the family had work to do on the farm, and children played a very important role! In this completely hands-on program for preschoolers, children will learn all about work on the farm and how children helped their families.
Children will do some of the following activities: hear a story and feed the chickens with Grandma Pat, play colonial games, take part in a tea party with Sarah Jones of the 1778 farm, take a tractor ride to feed the animals, wash clothes, pump water, plant seeds, visit the Big Yellow Barn, and dress up like a real colonial child!
This program is a wonderful experience for young children, not only connecting them with nature, but giving them a real sense of purpose and importance as they feel the satisfaction of learning new skills, being a part of the farm, and a hard day's work!
The Jones Farm in the Infancy of Mechanization
AGE GROUP – Program recommended for grades 5–8 • DATES – Offered May through early November
PROGRAM SIZE – 20 student minimum • LENGTH – Approx. 3 hours (plus time for lunch)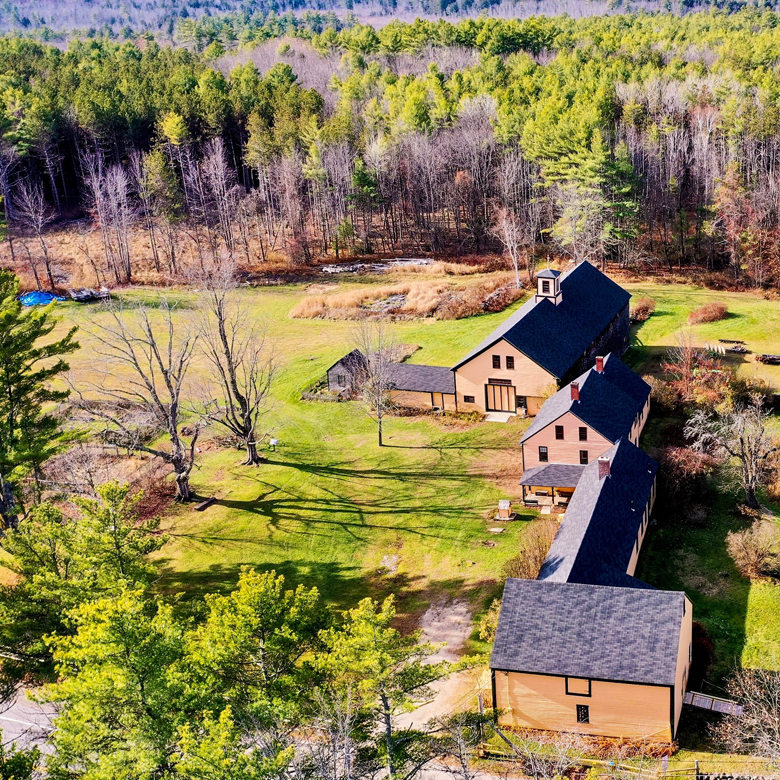 This museum-to-school program is based on the Donald Hall book, The Farm Summer, 1942, where a young city boy spends the summer on his grandparents' farm and discovers all that farm life has to offer. As students tour the house with a costumed guide portraying Elizabeth Jones, they will learn how farm technology changed since Colonial times in butter-making, candles, the use of wool, food storage, and the daily meal. They will also learn about the new drink, Moxie, popular war songs of the period, and new technologies such as a radio, record players, sewing machines, electricity, running water, and bathrooms.
Students will personally experience the part families played in supporting the war effort by writing letters to soldiers and cooking a recipe for butter after the effects of war shortages and rationing. They will also learn about the added responsibilities of women and children on the farm when the father is off to war. They will discover toys and children's books from the 1940s times that still exist today.
In addition to the activity block of the house tour, students will take part in hands-on activities such as: cooking period recipes, rationing activities, a Victory Garden, period games, writing letters and rolling bandages, hearing the book, The Farm Summer, 1942, a tractor ride to visit and feed the animals, and meeting a uniformed WW2 reenactor.
This program supports the NH State Social Studies curriculum.
An Old-Fashioned Thanksgiving on the Farm
AGE GROUP – Program recommended for children grades K–8 • DATES – Offered Mid-October through November 30
PROGRAM SIZE – 20 student minimum • LENGTH – Approx. 3 hours (plus time for lunch)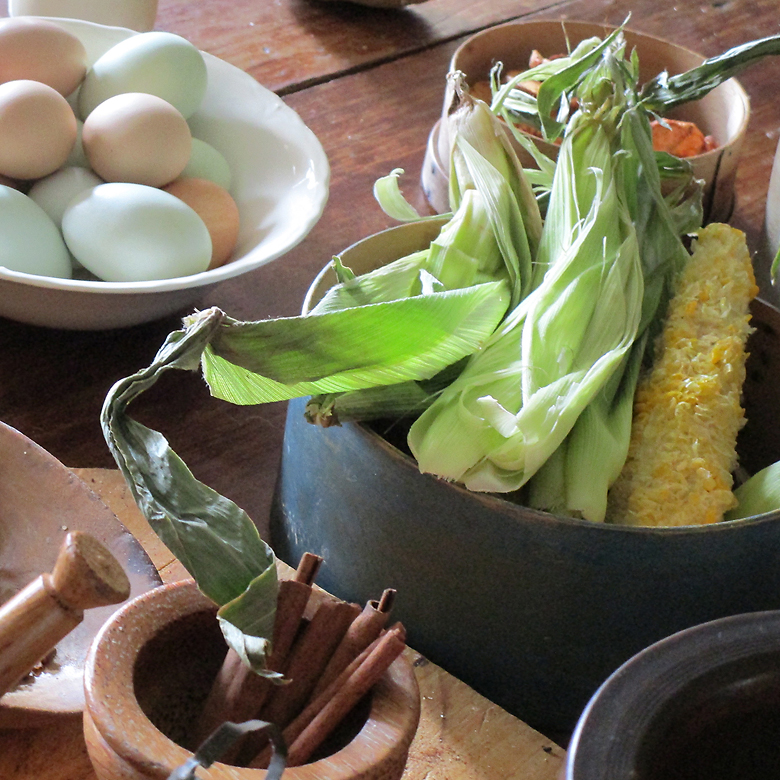 New Hampshire has a special connection to Thanksgiving! Our own New Hampshire native, Sarah Josepha Hale, editor of Godey's Lady's Book, who persuaded President Lincoln to declare the fourth Thursday in November a National Day of Thanksgiving in 1863, will greet the children. She will talk about the traditions that our farm would have celebrated at that time, and she'll share her own adventures with the president. You might even get to hear her letter to him!
Children will begin with a tour through the historic Jones farmhouse where they will meet costumed guides portraying Jones family members during the Civil War era as they prepare to celebrate Thanksgiving. After the tour, children will help prepare the holiday meal, learning how to grind and pound flint corn to make cornbread, churning fresh cream into butter, and pressing apples at the Cider Barn to make cider for everyone share at the Thanksgiving meal.
Students will also explore the 104-foot great barn and participate in a special barn hunt. We will enjoy a tractor tour around the grounds of the farm, stopping to visit and feed our horse, cows, sheep, and goats. A highlight of the day is always hearing "Grandma Pat" tell a story about the holiday, then going to feed the chickens with her!
The Colonial Experience at the New Hampshire Farm Museum
AGE GROUP – Recommended for Grades 5-8 • DATES – Offered May through early November
PROGRAM SIZE – 20 student minimum • LENGTH – Approx. 3 hours (plus lunch)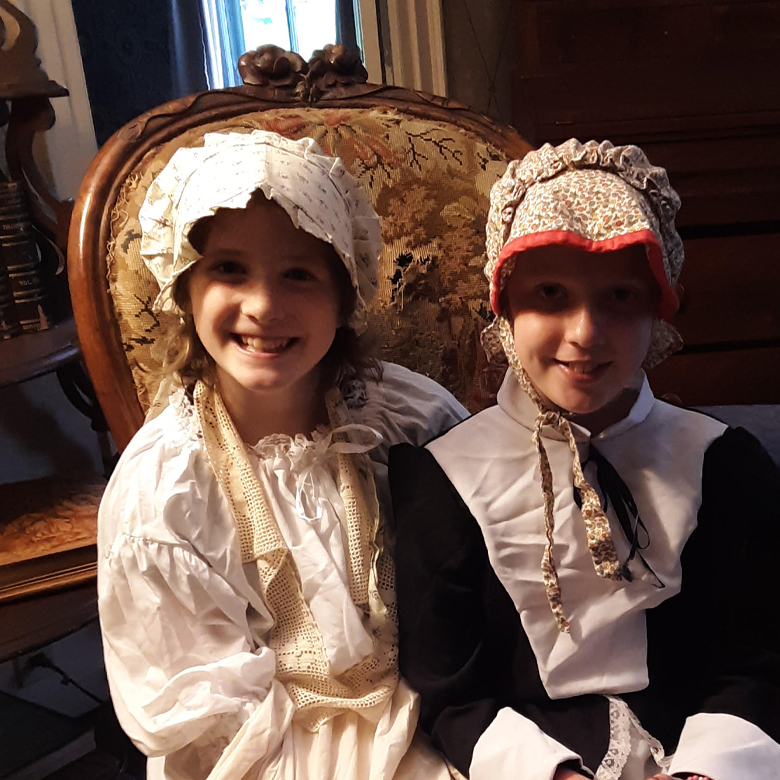 This program was styled to meet the needs and skills of older students. Activities will engage students in assessing the Colonial time period when America was learning to be independent and creative in order to survive the difficult New England environment. Students will participate in a variety of work and recreational activities that will allow them to experience how it must have felt to live in past generations on the farm when the Jones family had just begun to make themselves the biggest and most productive farm in the area.
Traveling back in time through our 1778 House tour, students will visit with a costumed guide sharing about everyday activities in the house. At the end of the tour, students will meet the only woman who signed the Declaration of Independence and sign their names to the document with homemade ink and a quill pen.
Outside the house, students will engage in five of the following hands-on learning experiences:
bartering for and selling the goods they had made throughout the year,
performing women's work as they help prepare part of the daily meal in the kitchen (Teachers can choose beforehand whether their class will make their own butter in the kitchen or use a meat grinder to create a wonderful cranberry sauce that they can sample when finished.),
exploring the many acres of the farm that had to be taken care of as they board a tractor ride to meet and feed our animals and see the many stone walls that were built by members of the Jones family, and perhaps trying their hand at working to sort the fresh hay,
completing daily chores such as using a wringer washer, sorting the laundry, pumping and carrying water to the garden and the house, beating the dirt from rugs, putting new straw in the pillowcases or mattresses in a trundle bed, emptying the chamber pots in the house, stacking wood for the day, grinding corn, weighing eggs and feeding the chickens,
learning about the production of apple cider in our mill,
or visiting the blacksmith shop and meeting the local blacksmith who made all the farm's needed tools.
The day will also include a tour of our 104-foot barn. A highlight of the day will be when the students meet a Colonial soldier who will teach them to march with replica colonial muskets in order to get a prize for their efforts. Our day will end with sharing songs and games with a costumed musician!
To schedule a visit or inquire about youth programming, call (603) 652-7840 or email nhfarmmuseum.info@gmail.com.