Come visit Grandma Pat at the farm this summer to hear a series of stories that will take you into the world of farm animals and characters that will give you a giggle or two along the way! We'll enjoy a story each week along with a visit to somewhere on the farm and sometimes a project, too.
This program is FREE to all!
DAY: Every Friday from June 23-September 1
TIME: 10-11:30 am
PLACE: At the Farm!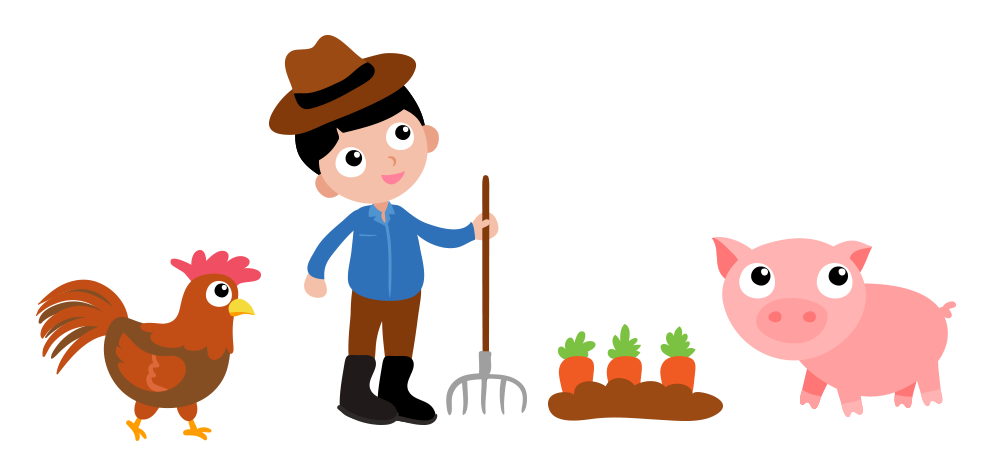 HOW TO RSVP:
Please call (652-7840) or email the farm (nhfarmmuseum.info@gmail.com) each week to let us know you're coming! This allows us to make sure we have enough materials to share with each young visitor.
---
2023 Story Schedule
June 23
Raspberries Written by Jay O'Callahan
Did you ever get frustrated when you tried to do something and it didn't work? So does Simon, a farmer who starts out selling eggs to other farmers. Find out why he always wears a big hat as the story unfolds! Just as Simon is about to give up on all the jobs that he tries, a girl that he once helped gives him some special dried raspberries to keep. Watch the magic of those berries work on all the townspeople in the story! At the end of the story, we will make our own "magic raspberry creation" and end with a special snack!
June 30
Cook-a-Doodle-Doo Written by Janet Stevens and Susan Stevens Crummel
With the questionable help of his friends, Big Brown Rooster manages to bake a strawberry shortcake which would have pleased his great-grandmother, Little Red Hen. This story is perfect in time for the 4th of July! Come join in the farm friendly fun, then make some whipped cream in the kitchen to top your own strawberry shortcake. Show your patriotic spirit and wear red, white, and blue today!
July 7
The Water Gift and the Pig of the Pig Written by Jacqueline Briggs Martin
Come discover what a girl names Isabel, a divining rod, and a beloved pig have in common. Together, word and image reveal that there is much more to this world than what we see. Make your very own pig nose before walking to the barnyard to visit our piglets today!
July 14
Ox-Cart Man Written by Donald C. Hall
New Hampshire native and author, Donald C. Hall, describes the day-to-day life of an 1800's New England family throughout the changing seasons. As you listen to Grandma Pat read, help to identify objects in the basket that the Ox-Cart Man took with him to Portsmouth Market. Then explore the Big Yellow Barn to look for more!
July 21
Sonya's Chickens Written by Phoebe Wahl
Sonya raises her three chickens from the time they are tiny chicks. Under her care, they grow healthy and even give Sonya a wonderful gift: an egg! One night, Sonya hears noises coming from the chicken coop and discovers one of her hens is missing. Where did the hen go? You'll learn some important lessons about the joys and sorrows of taking care of farm animals. We'll make chicken masks before exploring the chicken coop with Grandma Pat and learning how to feed one of the farm's chickens.
July 28
Otis Written by Loren Long
Otis is a special tractor. He loves his farm and farmer. He particularly loves the little calf in the next stall, whom he purrs to sleep with his soft motor. The two become great friends, romping in the fields, leaping bales of hay, and playing ring-a-round the rosy in the Mud Pond. Discover what happens when the little calf gets stuck in the Mud Pond. Afterwards, we'll walk to the Apple Orchard Pasture and meet our newest calves who were born in November and December. Feel free to bring an apple or carrot to share with them!
August 4
Tractor Mac Harvest Time Written by Billy Steers
When the nights start to get cooler and the corn is ready for picking, it's time for autumn fun at the farm! Tractor Mac loves the fall time, but he's just too big for the orchard, where he is stuck harvesting apples that Farmer Bill will make into delicious apple cider. Across the road is Small Fred, the tractor, but he's just too small to pull all of the people who want to go on a hayride. Working together, Tractor Mac and Small Fred figure out a way to share their chores and share the fun.
August 11
The Pumpkin Man from Piney Creek Written by Darleen Bailey
After seeing a jack-o-lantern for the first time, Hattie tries to convince her father to spare one of the pumpkins he has grown on his farm. But Pa has promised to sell the Pumpkin Man from Piney Creek all one hundred of his pumpkins. This story is set in the 1800's in rural America and will delight all those who look forward to autumn and pumpkin time. After the story, we'll sample Roy's Pumpkin Pie from the New Hampshire Farm Museum's Cookbook!
August 18
The Cow That Laid an Egg and Chicken Big Written by Andy Cutbill
Come meet two special farm animals, Marjorie the Cow and Chicken Big, who both have unusual problems with their lives in the barnyard. Marjorie the cow just doesn't feel she is special. Chicken Big just isn't the right size as the other chickens. Come enjoy the silly way that both animals find ways to fit into the lives of their farm friends in the barnyard!
At the end of the story, have fun join in the fun of making butter with cream from a cow!
August 25
Mary's Penny Written by Tanya Landman
Long, long ago, back in the olden days there lived a farmer who had a problem. He needed to decide which of his children would get to run the farm when he was too old to work on it anymore. Only ONE child could be chosen, and the farmer didn't want anyone to have hurt feelings over his decision! Back in the olden days long, long ago, only boys could run farms. Listen to this charming story and watch how the farmer's daughter, Mary proves that GIRLS can be farmers too! After the story, come along as we do some contests and games right on our New Hampshire Farm to prove that boys and girls are both good at many things!
September 1
Tractor Mac Arrives at the Farm and Builds a Barn Written by Billy Speers
Tractor Mac is a newcomer to Stony Meadow Farm. When he arrives, there is much excitement in the barnyard as the other animals see all that he can do! He actually takes over the job of some of the working animals. Just as he becomes friends with all of them, the farmer asks Tractor Mac to take on a new job! Can he do what he is asked to do? Use popsicle sticks to make your own barn creation to take home!