The buildings
The New Hampshire Farm Museum consists of two adjoining farmsteads, the Jones Farm and the Plummer Homestead. We have a collection of historic buildings and barns, including a blacksmith shop, a cobbler shop, a pole barn, a chicken coop, and the York Cider Mill, a beautiful, octagonal post and beam structure. The Jones farmhouse is an astounding 275 feet from one end to the other and includes a 104-foot barn that is filled with historic agricultural artifacts. 
You can read the story of how the New Hampshire Farm Museum got its home here in Milton on our history page.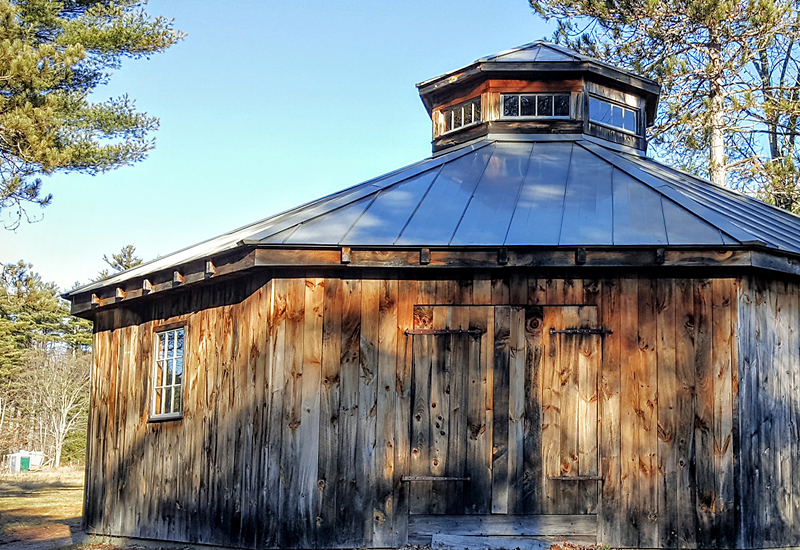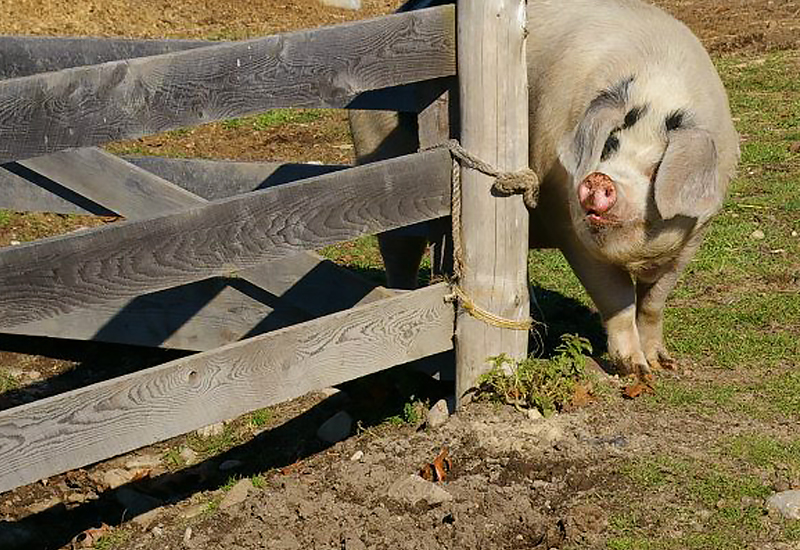 The animals
In addition to agricultural exhibits, displays, and collections, we're also a working farm, keeping a selection of heritage breed farm animals and a variety of gardens on the property. While we keep the chickens year-round, the other animals come to live with us when the farm is open. In our off-season (right now), the animals all return to the local farms where they have families to care for them day in and out throughout the winter!
Animals at the farm include pigs, sheep, goats, chickens, turkeys, rabbits, and cows. When we re-open in the spring, we'll post photos and introductions, so everyone can know who's living at the farm. We may also give people the opportunity to "adopt" a farm animal!
The land
The Farm Museum is situated on 50 acres of fields and forests on beautiful Plummer's Ridge in Milton, New Hampshire. We maintain a variety of gardens on the property, including herb gardens, flower gardens, and a children's garden for educational purposes. We also grow produce for the Farm Museum Country Store and the occasional speciality crop. For example, one summer we grew flax for a Flax to Linen event!
The New Hampshire Farm Museum also has beautiful hiking trails! Our trail system connects with two other properties, creating the Plummer's Ridge Forest and Farms Hiking Trails. This trail system is open to hiking, snowshoeing, and cross country skiing. A kiosk is located at the trailhead with maps.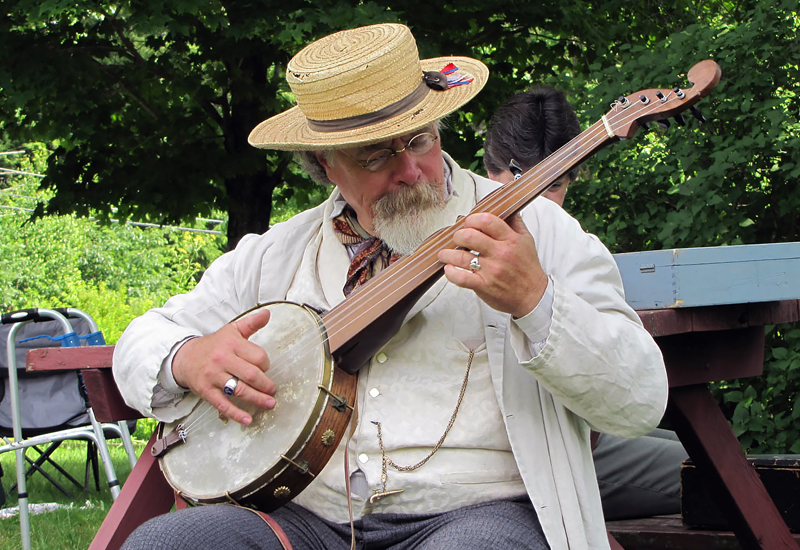 The people
The New Hampshire Farm Museum offers guided tours of the farm and the historic Jones farmhouse, exhibits, and displays on rural life and agriculture in New Hampshire. We hold special events, festivities, and programs on weekends throughout the year, many of which are free to members.
The Farm Museum also offers a variety of school and youth programs, including day camps, school/homeschool trips, and programs for all ages. We accept groups both large and small, and our programs can be tailored to match specific learning goals and adapted to fit curriculum and student interests.
Spend a day on the farm...
There's so much to do!
Learn about the history of farm life in New Hampshire.
Tour the historic Jones Farm and Tavern.
Explore our 104' barn filled with farm implements, tools, wagons, and sleighs
Meet our farm animals – cows, chickens, goats, sheep and pigs.
Grind corn and feed our chickens.
Explore our tractor and carriage barn.
See Daniel Webster's plow and Uncle Sam, the world's longest sled!
Explore acres of fields, forest, and hike our trails.
Visit one of the largest apple trees in Strafford County (maybe the largest!)
Go on the Great Yellow Barn Hunt – kids love it!
Visit the York cider mill – a beautiful, octagonal timber built outbuilding
Walk out to the old family cemetery.
Shop for produce and locally made products in our Country Store.
And, of course, join us throughout the year for special events, programs, and workshops.
Learn about NHFM events like Olde Time Tavern Day, Children's Day, 4th on the Farm, and The Great New Hampshire Pie Festival™ by checking out our Event page or by following us on Facebook!