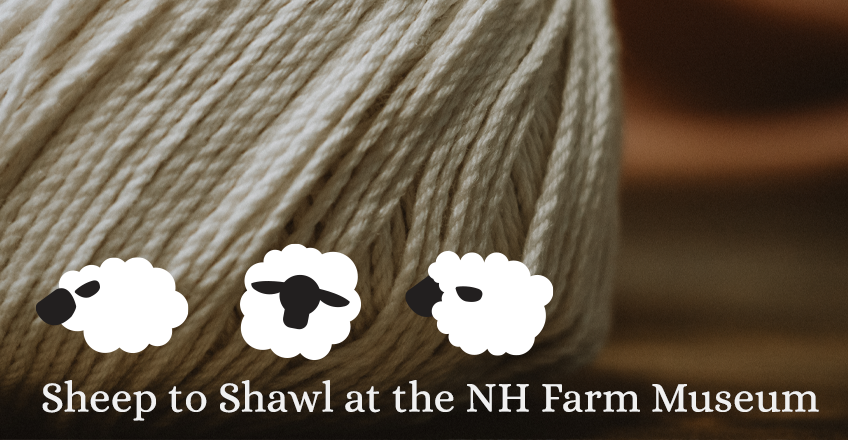 MAY 20: Sheep to Shawl
376
376 people viewed this event.
Winter is over & our sheep patiently await their summer haircuts!
Join us as Milton resident, Tim Molinaro, transforms our sheep from their winter attire into their sporty summer look! With the help of his well-trained sheep herding dog, Finn, Tim will round up the sheep as farmers have done for generations, then watch firsthand as the sheers and the clippers work their charm, followed by artisans cleaning & scouring, grading & sorting, carding, spinning, and knitting!
DATE: Saturday, May 20, 2023
TIME: 10:00 – 4:00
A day filled with fun!
Sample cheeses made from sheep milk such as Pecorino, Feta, Brie, and Roquefort cheese in our kitchen.
Take a tractor ride of the farm to visit our animals grazing in the fields.
Meet our newest calves, Scout and Eve, born over the winter!
The younger crowd will be entertained with a stop by the ell of the barn to visit with Grandma Pat as she reads Warm as Wool, by Scott Russell Sanders.
Visit with our craftspeople as they spin the fleece from the sheep into wool.
Take a tour of the historic Jones farmhouse and Tavern, dating back to the late 1700s, and discover all of the historic items made from sheep's fleece.
Explore our gift shop for some handmade woolen items!
Purchase a lunch from Richie's Hot Dog Truck, or picnic overlooking the Old Stage Road.
---
Admission
MEMBERS & Blue Star Families: FREE
Adult: $12
Senior (65+): $8
Juvenile (4-17): $6
Children under 4: FREE
Family Pass (2 adults + kids or grandkids): $30
---
---
Volunteer Opportunties
We are always looking for volunteers, actors, and craftsmen to help us with setting up events, hanging flyers, photography, role playing, and cleanup.
Learn more about volunteering with us!