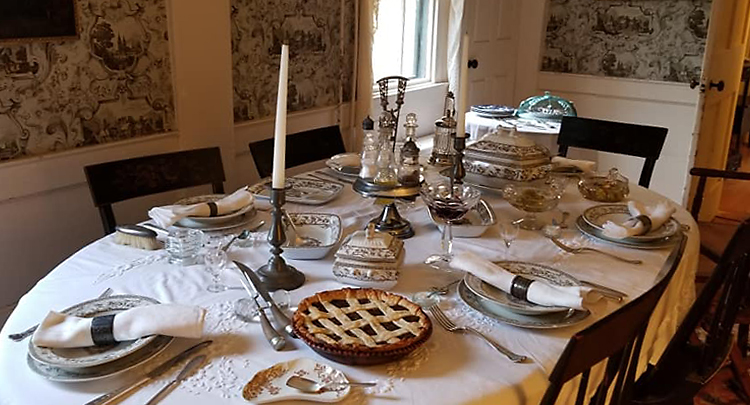 November 4: An 1863 Thanksgiving
1022
1022 people viewed this event.
Over the River and Through the Woods…
Listed in 10 Things Not to Miss in November by Boston.com, our Thanksgiving event is a New England favorite!
Did you know…
It was our own New Hampshire native Sarah Josepha Hale, Editor of Godey's Lady's Book, who persuaded President Lincoln to declare the fourth Thursday in November a National Day of Thanksgiving in 1863.
We invite you and your family to come meet Sarah, hear her read excerpts from her letter to Abraham Lincoln, and enjoy a day of festive activities at the farm.
DATE: Saturday, November 4, 2023
TIME: 10:00 – 4:00
This living history event features role players in period dress and a beautifully set table in our Victorian parlor—just as it was in 1863—complete with such delectables as baked butternut squash with maple syrup and cinnamon glaze, oyster stuffing, homemade cornbread, ground cranberry orange sauce, mincemeat pie, squash pie, pumpkin pie, and more!
---
Thanksgiving event activities include:
Play parlor games and enjoy 19th century holiday music in the parlor.
Take a horse-drawn wagon ride through the fields and visit the Blacksmith Shoppe,
Cozy up to our outdoor hearth for a sip of mulled cider, or try your hand at roasting popcorn over the coals.
Stop by the kitchen to taste homemade cornbread and make homemade butter.
For the little ones, Grandma Pat will read Thank You, Sarah in the Plummer Homestead.
For history buffs, come see the carriage that was borrowed by Hollywood for the Daniel Day Lewis film, The Crucible.
Speak with a Union solder just back from serving in the 12th New Hampshire Regiment based out of New Durham.
Explore our 104-foot long barn filled with agricultural tools and artifacts. We have a Barn Scavenger Hunt as well, with prizes awarded for all who complete it!
Stop by our Country Store to purchase homemade jams, jellies, farm fresh eggs, cheese, hand crafted items, or a Farm Museum cookbook!
---
Admission
MEMBERS & Blue Star Families: FREE
Adult: $12
Senior (65+): $8
Juvenile (4-17): $6
Children under 4: FREE
Family Pass (2 adults + kids or grandkids): $30
---
---
Volunteer Opportunties
We are always looking for volunteers, actors, and craftsmen to help us with setting up events, hanging flyers, photography, role playing, and cleanup.
Learn more about volunteering with us!