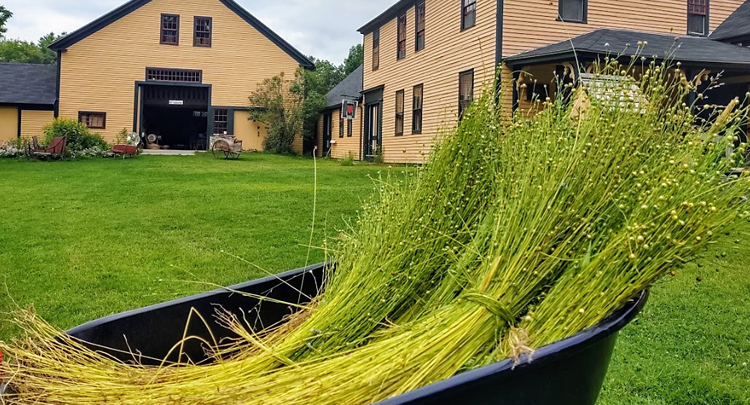 Flax to Linen
831
831 people viewed this event.
This event was held on Saturday, September 7, 2019.
---
Come celebrate the fruits of our labor as linen is produced from the flax we've grown throughout the season!
While we spin the flax on September 7th, the Flax to Linen event is technically five months long, beginning in May when we plant the seeds. You are welcome to participate in any or all stages of this event! Contact us if you would like to join us in the planting and processing of flax from May to September or if you'd like to help out on September 7th as we spin the flax and weave it into linen.
Learn about every step in the process! Plowing, seeding, pulling, stooking, rippling, retting, breaking, hackling, scutching, spinning, reeling, and weaving!
DATE: Saturday, September 7
TIME: 10:00 – 3:00
---
Volunteer Opportunities
We always welcome volunteers to help us with our events! Hang fliers, lend a hand with setup and cleanup, or take photos for the farm to share. In special instances like the Flax to Linen event, we also need additional help! Help us grow, harvest, and process flax throughout the season, or help out by spinning, weaving, explaining and demonstrating these skills on the day of the event!
Learn more about volunteering with the Farm Museum »